history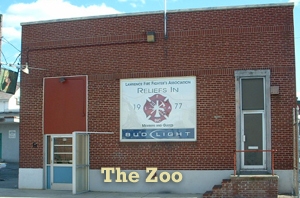 Back in 1977 a bunch of Lawrence firefighters along with a few firefighters from Methuen, No.Andover, Haverhill, Lowell, Nashua NH and Salem NH had a vision. We wanted a place to call our own; to hang out, tell "war stories", have Union meetings, retirement parties and family parties. So we all threw some money into a kitty and bought the CMAC hall, a French/Canadian mens social society, on Tremont St in Lawrence MA. There was a function hall and bar on the ground floor and four 'Duck Pin' bowling alleys on the basement level. "The Zoo" was born. The bowling alleys had leagues six nights a week. The bar was manned by firefighters volunteering their time for a 'couple of pints'. A couple of years later we bought the duplex triple decker next door. A hearty crew of the boys again volunteering their time for a 'couple of pints" gently took the building down and turned the vacant lot into our parking lot. Rumor has it that much the salvage lumber has been converted into a hunting lodge in Becket, MA up in the Berkshires. We were thinking "green" before it was fashionable. Eventually the bowling alleys became to expensive to operate and maintain so they were removed. A modest lounge was built in its place and the upstairs hall is just used for functions. The downstairs lounge was wall to wall fire memorabilia and fire patches from around the world. We have two pool tables, three dart alleys, video games, juke box and TV's everywhere. For a bunch of crazy firemen who didn't know what they were doing we did pretty well.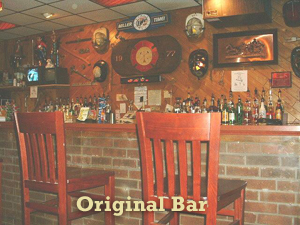 Hey You Spelled Your Name Wrong !!
People always ask us what happened to the other 'n' ?? There are two n's in "Inn". Correctomundo but we are not an Inn. We are an in such as "In your face!". 

OK here's the real story. When we started the club we had a contest to name the place. For you non 'jakes' when a fire had been extinguished and the trucks got back to the barn, it was announced over the radio "The relief is in for Box 127". Which meant the fire was out and you could now relax and wash and hang the hose, load new hose onto the truck and clean your tools etc. etc. etc. and relax. Hence the Relief's In.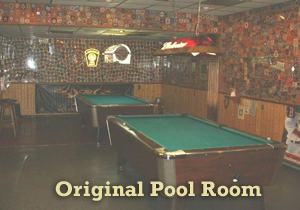 30 YEARS LATER....
In 2007 the story continues.... A new Generation of Lawrence firefighters now carry on the tradition and privilage of being on the Board of Directors and guiding the Association in a new direction. Through hard work and support of the Share Holders we were given an opportunity to move to a bigger and better location, So after years of negotiations it finally happened in 2010 and we moved to our current location at 1 Market Street.
 
Now you know the whole story of how we started and how it continues. So!...Pay us a visit at the new place, bring a friend and experience the history for yourself.

Memories Furnished By: 
S.J.Bongiorno
"Bongi"
LFD ret.
Secretary
Relief's In